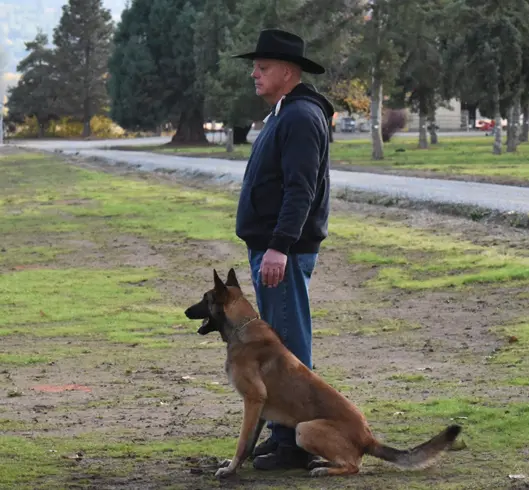 The Rogue Valley Schutzhund
The Rogue Valley Schutzhund & Police K-9 Club is a dedicated group of individuals that train for the German dog sport of Schutzhund (IGP). Started by Jason Lake nearly 20 years ago the Rogue Valley Schutzhund & Police K-9 Club is proud to be an affiliated club of Schutzhund USA. The Rogue Valley Schutzhund & Police K-9 Club is a group of like-minded individuals who, through their love of dogs, strive to better all breeds of dogs, especially those best suited for work. This is accomplished through the training and trialing of our dogs, as well as the daily activities and interaction with our dogs. We feel that our methods create a firm and lasting bond with our canine companions, a bond that we do not take lightly. We are a member Club of the United Schutzhund Clubs of America. Our main focus is the sport of Schutzhund.
Our Goal: To title our dogs in the sport of Schutzhund at the highest level possible. Members are NOT required to participate in all three phases of Schutzhund; Tracking, Obedience and Protection - if you only want to train in one of the phases but not the other (not in Protection) is up to you and your dog. We welcome any dog with working ability. Alongside our German Shepherds, we also have Rottweilers, Malinois, Doberman Pinscher, Giant Schnauzers and even mixed breeds within our membership.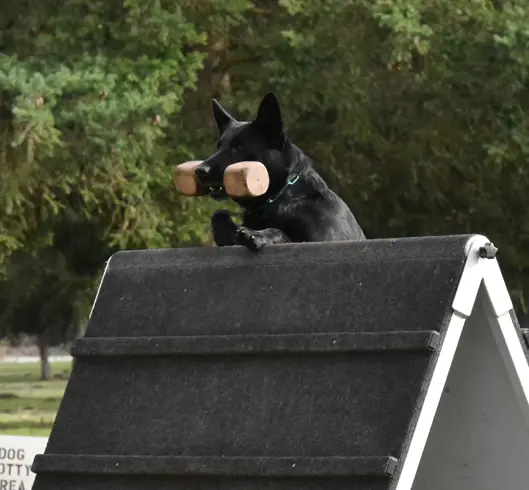 What is Schutzhund
Schutzhund is a German word meaning "protection dog", but there's a lot more to it than that. Originally developed as a means of testing potential breeding stock, it has evolved into a sport that can be enjoyed on a variety of levels from hobby to international competition. As dog sports go, Schutzhund is without a doubt one of the most exciting and challenging. It is also one of the most rewarding. Above all, it is a team sport; the team of dog and handler. The two must work together, and perform in harmony. When done well, it is beautiful to watch and the bond between dog and handler is clear for all to see and many to envy.
Schutzhund training involves three phases: tracking, obedience and protection. When put together, the great effort involved in obtaining a Schutzhund title, and the challenges which accompany this training, make for an obedient, stable, useful and well rounded companion and create an incredible bond between dog and handler. Schutzhund by necessity involves stringent tests of the dog's temperament, nerve, and overall willingness to work, and by any definition a Schutzhund trained dog is a well trained dog. As such, these dogs are safe, happy, and obedient with great self confidence, mental stability and a willingness to please the handler. These are the traits which make the German Shepherd Dog one of the most versatile breeds in existence, and which are still highly valued by professional trainers, law enforcement officers and families wanting an outstanding companion.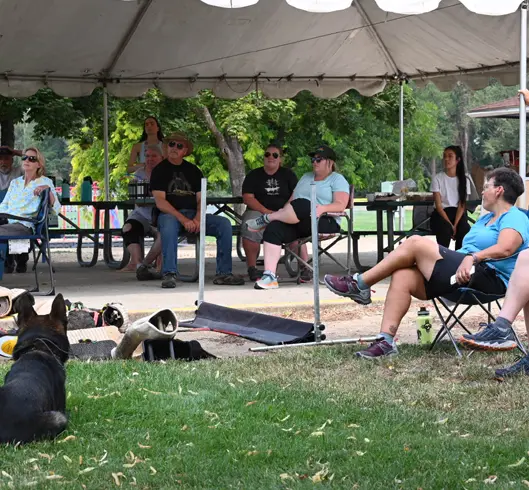 The Rogue Valley Schutzhund
Our Club objectives are:
To encourage and promote the training of all breeds of working dogs for the sport of Schutzhund.
To support movements which demonstrate the advantages of Schutzhund training.
To support and organize seminars and trials for Schutzhund.
To support and organize breed surveys and conformation evaluations for working dogs.
To educate the public about the sport of Schutzhund.
To work towards obtaining Schutzhund Titles with our dogs.
Obedience
The Obedience Phase includes a series of heeling exercises, some of which are closely in and around a group of people and much more.
Tracking
The tracking phase is intended to test the dog's trainability and ability to scent, as well as its mental and physical endurance.
Protection
The Protection Phase tests the dog's courage, physical strength, and agility. The handler's control of the dog is absolutely essential.
Temperment
Schutzhund tests dogs for a strong desire to work, courage, intelligence, trainability, a strong bond with the handler, perseverance, and protective instinct.